20 Amazing Sneakers for Girls
Lately, sneakers have been taking the fashion world by force and more low and high end brands are making fashionable sneakers. There are sneakers that you can dress down for errands, still looking cute and sneakers that you can dress up in an instant, looking like you're ready for that runway. Here are 20 amazing sneakers for girls to wear for all kinds of occasions.
1. High Knee Sneakers
How amazing and edgy are these high knee sneakers? They're extremely unique as high knee sneakers aren't easy to come by. The highest we've usually seen sneakers were up to the calves like those high top Converse shoes that were extremely popular in the 90s. This pair of Jeffrey Campbell's will make a huge statement because of their uniqueness. You can pair these with a skirt or shorts in the spring if there's a little chill and it won't add too much bulk.
2. Simple Black Wedges
Wedge sneakers are a great way to have a little height while still having comfort and the ease of walking in them. The black studs on the tongues of the shoe give it a little edge that isn't too overpowering, especially since the studs are the same colour as the rest of the shoe.
3. Spiky Wedges
This is similar to the previous wedge sneaker, but this one comes with a message. The spikes attached to the shoe are both edgy and intimidating, but intimidating in a good way. All the attention should go straight to this shoe, so keep it simple and pair this with a simple tank top or t-shirt with jeans or shorts.
4. Cute Floral Platforms
This super cute floral platform sneakers are for those of you that prefer a simpler shoe, but one that has a little something that makes it stand out. It also gives a little bit of height, but you're still flat on the ground so you won't lose your balance. This is a great shoe for short girls that can't walk in or wear typical heels very well.
5. Simple Black Platforms
This is the same concept as the last pair, but for the shoe minimalist. These are the perfect shoes for the days you don't feel like getting super dressed up but you still want to look cute. For a simple day like running errands, you can slip these on with casual clothing. For a night out, you could simply throw on a blazer with the outfit you're already wearing and look great.
6. Gold Embellishment
Gym sneakers will look like gym sneakers, but there's a way to dazzle them up like adding a gold plate to the toe of the shoe. The gold embellishment is such a unique and interesting twist to an otherwise not so unique everyday shoe.
7. Floral Tips
The graphic flowers on these Adidas Originals make this one of the cutest sneakers we've seen. The difference in colour, purple on one shoe and blue on the other, is an extra bonus that makes this a unique pair of shoes.
8. Sporty Spice
For the tomboys that like a little bit of fashion, these Superstars are a great way of mixing casual, sports, and fashion in one. You can throw on a simple oversized tee and shorts with these for your errand run, go out for a comfortable walk on the beach, and look like a superstar (pun intended) on your next Instagram post.
9. Casual Glitter Sneaks
Bring a ton of sparkle into your life with some easy DIY glitter converse sneakers. These will make any outfit stand out when you're on the go as light will reflect from the glitter and everyone will notice and take a look. Make sure to put a towel or a piece of cardboard under the shoes when you put the glitter on to avoid a mess on your floor!
10. Nude
Every woman should have a few different neutral colours in her wardrobe to mix and match and make the best out of her closet. These nude suede shoes make a great addition to any minimalist wardrobe since they'll go with any colour shirt you'll think about wearing.
11. All White
Many people say you shouldn't wear white after Labour Day, but honestly, who cares? These all white shoes are too good to pass up and the gold chain around the ankle adds the perfect touch to sprucing it up without being overpowering.
12. Slip Ons
Slip on sneakers are really popular due to the fact that they take very little time to put on so there's no fuss involved. If you're going to places where you know you'll be taking off your shoes, like the airport, these slip on Vans are perfect so you won't hold up the security line and you'll be able to get to your gate as quickly as possible.
13. The Classic Converse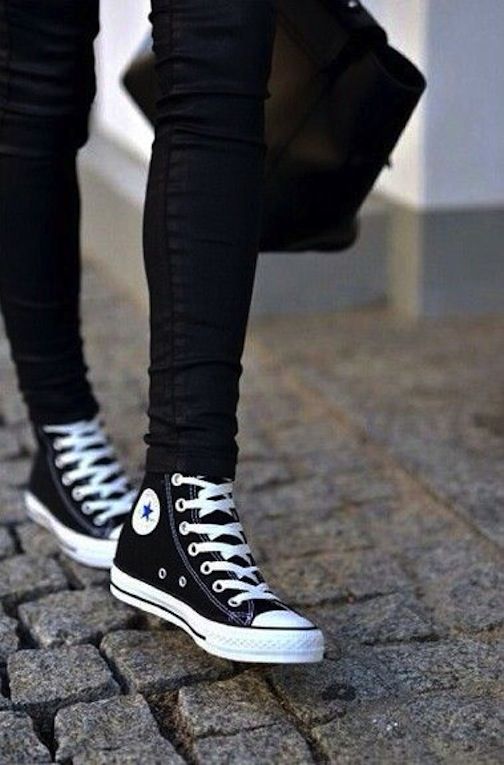 You can't really make a post suggesting shoes without talking about the one and only classic Converse sneaker. Any woman growing up in the 80s and 90s appreciate this shoe because it was so popular and went with everything, even formal wear (which may sound strange to  you now, but back then, Converse did indeed go with dresses and skirts)!
14. Light Up Shoes
It's no secret that going to the club or a rave is a popular nighttime activity for young women. Half of the appeal are all the bright neon lights and costumes and people love to wear while the partying is going on. Wearing heels may be part of the typical nighttime fashion, but these light up shoes are perfect for raves since they light up in the dark! They're super cool looking, fun to wear, and best of all, way more comfortable than stilettos.
15. Cute and Feminine
These cute polka sneakers with a coral bow and laces are perfect for girls who are very feminine and love the kawaii ("cute" in Japanese) fashion. Sneakers may not be every woman's choice, but this particular one would be great for any woman who loves bows, even the ones that aren't really into sneakers.
16. Spiked Converse
These above-the-ankle Converse with small spikes are another edgy addition to any punk rocker's closet. They're not really a low maintenance shoe, but they're not over-the-top either. The small size of the spikes make this a happy medium shoe that you can wear with everything and even dress it up for special occasions. Just make sure not to hit your hands or anyone else's on the spikes!
17. Lacy Sneakers
Here is another feminine sneaker for the gals that aren't too into them, but are interested in trying them out. The main part of the shoe isn't anything to write home about, but the lace detail around the ankle gives the shoe a great and unique texture that's perfect for any girl looking for a sneaker to fit their girly style.
18. Colourful Bottoms
You don't always need shoes that are colourful all over. Keep the public wondering what's going on with your shoes by wearing a pair that has most of its colour on the bottom. People will show interest when they see just a little bit of the fun and strike up a conversation about them.
19. Ombre
Did you know that ombre isn't just for your hair and nails? You can give an ombre look to your shoes too! This will give your plain white lace ups just the kind of upgrade they did for the upcoming spring and summer months.
20. Bright All Over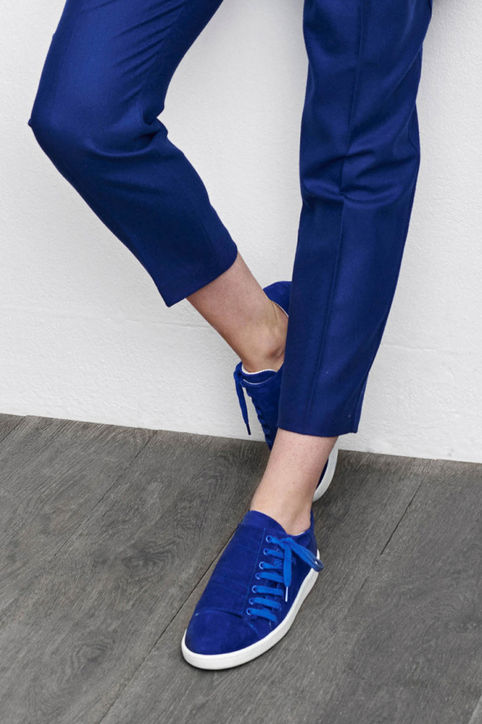 It's easy to think that neutral sneakers that are just one shade is the only way to go about wearing a one colour sneaker, but that's not true at all. Variety is the spice of life and you need to spice up your way with bright sneakers like this one that is mostly blue with just a sliver of white on the bottom. You don't even have to wear blue. You could get these in pink, purple, yellow, and more!
As you can see, there are so many great options for sneakers that will go with all kinds of different lifestyles. Even if you're someone who has been more into heels or flats, there will always be a sneaker that is accommodating to you and your wardrobe.